What is an LMS, and What Can it Do for Your Business?
Michael got a new achievement called "The Ambassador." Now, he's number fifteen in the overall ratings. But what's even more important, he's one rank higher than his colleague George from Miami (they've been competing for a while). No, they aren't playing World of Warcraft. In fact, Michael is a manager at a supermarket which is a part of a well-known retail chain. He got the achievement for completing the e-course "The Standards of Service."
You can launch your own online learning resource and implement the same gaming principles using a learning management system, or LMS. In this article, we're going to tell you what it is and how it can help you.
What's an LMS?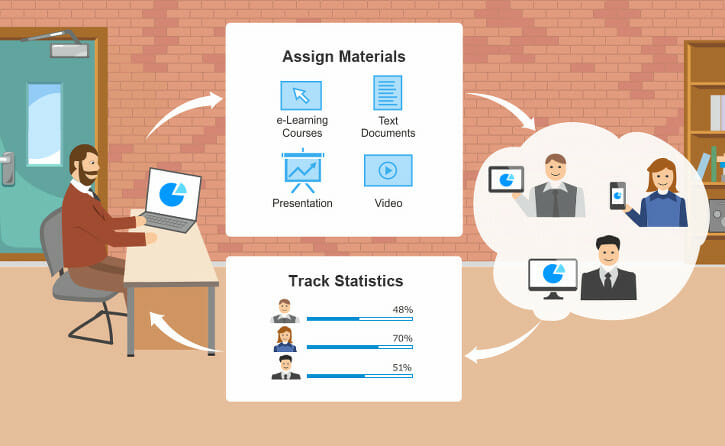 An LMS is a platform for digital learning. Its key features can be found in the abbreviation.
L — Learning. With an LMS, you can create a single source of e-courses and training materials. This will become a unique source of knowledge in your area, so that you can keep and increase the in-house expertise of your company.
M — Management. You can manage courses and learners, and even improve your own efficiency.
Unlike file sharing services, an LMS is not just a heap of files; on the contrary, it's a well-organized system where you manage the training process. To start training, simply add employees and assign courses.
Have you recently hired some new employees? Send them invitations to the onboarding training course. Experiencing low sales? Ask your salespeople to practice with virtual clients.
Thanks to features like a calendar, you'll be able to assign and manage not only online training, but also in-class sessions. In this way, an LMS can be a sort of a to-do app designed specially for eLearners.
S — System. Computer system, to be exact. An LMS automates the most boring and tedious work such as grading, processing statistics, and preparing reports. Plus, you can train your employees without leaving the office, managing all the processes right from your work computer.
In other words, an LMS is like your own online university. The system allows you to create and store eLearning courses, provides learners access to the content, and helps you evaluate the results.
What Type of LMS Should I Choose?
Now that you know what an LMS is, it's time to figure out which learning platforms exist and how they differ. Here's a description of different types of LMSs:
Corporate vs. Academic LMS
Both corporate and academic LMSs give access to learning materials online and automate different aspects of training processes, but they have some differences.
Learning goals
Academic learning is aimed at producing good students that have deep knowledge of the subjects and strive to learn more. Here, theoretical knowledge is the end goal. Corporate training focuses on learning related to practical applications, and one of its main objectives is ROI.
Course timeline
For workforce training, time limits are shorter, so a corporate LMS must be flexible to fit all time frames and business needs. Semesters, trimesters and quarters — these are the time frames for educational institutions. For them, the LMS should offer such scheduling units as holidays, exam times, and periods.
Certifications vs. grades
A corporate learning platform usually offers the capability of tracking and completion in the form of certifications. An academic LMS typically tracks learners' progress through its grading system. It provides gradebooks for monitoring attendance and assignment results, as well as keeping other information for each student in the roster.
Tools for social learning
Other functionalities that an academic learning platform usually provides are capabilities for creating student groups for class projects and breakout sessions, discussion boards, and a built-in web-conferencing tool.
Content updates
The content students require is based on the sciences and humanities; that's why an educational LMS doesn't need to update it regularly. Since market needs change quite rapidly, a corporate LMS should have the ability to quickly and easily update courses.
Free vs. Commercial
This is usually one of the first challenges companies face when choosing an LMS: deciding between a free, open-source system, or a commercial platform. In fact, there's a major misconception that all open-source LMSs are free. There may be no license fee, but that doesn't mean there are no costs. You are likely to spend more on your open-source platform than a commercial LMS, as you may need to set up a server and a hosting architecture, customize LMS features that come standard, fine-tune the site branding, and regularly upgrade your system. Plus, if you don't have technical talent in your team who can make it highly customizable for your company, your eLearning project is likely to fail.
The ideal solution for users without an IT background is commercial software. It's typically much easier to deploy and use, offers tech support services, and doesn't require additional costs.
SaaS / Cloud LMS vs Locally hosted LMS
You can choose a SaaS (Software as a Service) LMS or store the data on your company's own servers. If you decide to host the system yourself, you're are fully responsible for all server specs, uptime and security.
If you select a SaaS system, it will be your LMS vendor who takes care of server load, backups, and all the other things concerning storing your training data. This is the best match if you don't have IT staff in place that can manage the system and handle support, customization and scalability concerns. Instead of spending time on managing the LMS, you can focus on creating learning content.
Some companies avoid cloud-based LMSs because of data security concerns. They believe that their information that is stored on a remote server may be compromised. However, there are different ways to safeguard your data. For instance, ensure that the LMS vendor has effective encryption protocols and will back up your information.
Course-creating (LCMS) vs. Non-course-creating (LMS)
To be more precise, an LMS (learning management system) is a tool that allows you to simply distribute ready-made content. And a system that, beyond this, has functionality for creating courses, is called an LCMS (learning content management system).
There's a tricky balance between these systems. An LCMS has greater capabilities for building and managing eLearning content, while an LMS focuses on user management and provides a wider range of learning experiences. For example, it lets you manage more traditional forms of learning, such as scheduling face-to-face training.
If you're going to build courses in-house, you can choose between two alternatives: either buy an LCMS, or purchase an LMS and an authoring tool separately.
However, here you can face two problems:
Built-in course editors usually have serious functional limitations, so you will be able to create only simple courses or tests.
Not all LMSs and authoring tools are fully compatible. For instance, there may be difficulties with uploading courses to the system or tracking learners' progress.
If you want to avoid compatibility problems and create beautiful interactive courses, choose an LMS with a bundled authoring tool. For example, iSpring Learn LMS is fully integrated with iSpring Suite. This integration allows you to create professional-looking e-courses, easily upload them to the platform, and enjoy advanced reporting capabilities.
What are the Benefits of an LMS?
There are a lot of obvious advantages of using an LMS both for businesses and learners:
Top benefits of using an LMS

| | |
| --- | --- |
| For businesses | For learners |
| reduce training costs | unlimited access to learning content anytime and anywhere |
| cut down the time for training/onboarding | stay on top of required training |
| maintain unified standards of work among partners and affiliates | increase knowledge engagement |
| create individual learning plans | improve work performance |
| measure training effectiveness | boost knowledge retention |
If at least some of these benefits align with your training goals, an LMS is exactly what you need.
Who Uses an LMS?
Large Enterprises
Large companies need to continually train hundreds and even thousands of employees from different affiliates. Many of them use learning platforms to keep resellers, franchises, and other sales channels up to date on product releases, compliance requirements, and more.
Small- and Medium-sized Businesses (SMBs)
Do you think that an LMS is only for large enterprises? Now, even a small company can launch eLearning to educate employees and develop their skills with fewer human resources and training costs. By empowering their staff with technology, they scale the growth of their business and adapt to the constantly changing market.
Among the other LMS users there are nonprofit organizations, government agencies, and educational institutions.
What Tasks Does an LMS Automate?
Here are some cases when using an LMS is a good idea:
1. Onboarding
With an LMS, you can automate employee onboarding. You just need to create a training program once and then assign it to all newcomers.
2. Compliance training
An LMS can help you keep employees up to date with compliance regulations. With a learning platform, it's easy to update the training program — you can add new compliance standards to your online course in just a few minutes.
3. Product knowledge training
With an LMS, you can educate salespeople and other professionals about your company's products or services. The system allows you to provide just-in-time training, exactly after new products are released, and deliver refreshers on the back catalog.
4. Sales training
An LMS can help you teach sales reps in different offices and geographical locations how to sell better. You can develop their sales and communication skills with the help of dialogue simulations and SCORM courses, and assess their knowledge with online tests.
5. Channel partner training
An LMS allows you to train thousands of partners across the globe using the same program. You can easily educate your channel partners on how best to market, sell, and support your products.
6. Knowledge base
All the learning content is stored in one place. Even if employees don't take a course, they can easily find the information they need on request. This is especially convenient for companies that need to provide training for salespeople on a wide range of products.
To see more cases and learn how a learning platform can drive your business success, read our blog post about corporate LMSs.
How to Organize Learning with an LMS
Let's take iSpring Learn LMS as an example to see how to organize training with an LMS.
iSpring Learn is a cloud-based service. That means you don't have to download, install, and configure the software. All that is required is an Internet connection and an email to register an account.
Step 1: Upload courses
To start training, you need to add materials to the LMS. The process of uploading content to iSpring Learn is similar to working with file-sharing services like Google Drive or Dropbox. Click the "Add" button and select the files from your computer.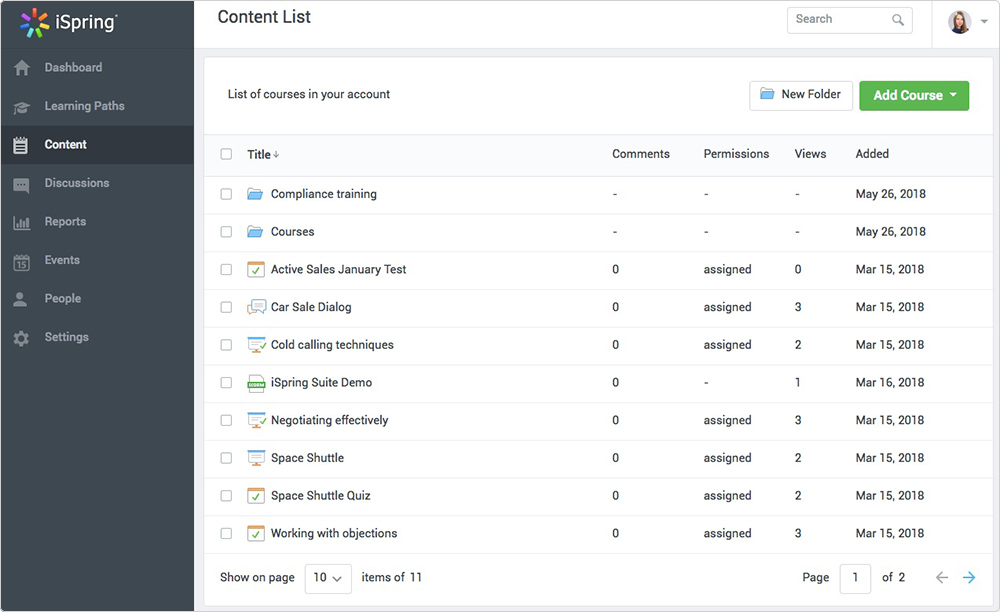 The LMS recognizes ordinary PPT presentations, audio and video, and documents, as well as special SCORM courses.
If you have a lot of courses on one topic, it's a good idea to combine them into a Learning Path for a consistent flow, even with the most complex subjects. You can customize the order of lessons and evaluation criteria, and, if needed, issue certificates to learners.
Step 2: Add users
One of the most useful features of an LMS is different user roles. In any LMS, there are 3 main user types:
A user or a learner. This is the most common role. Users can take the assigned courses and study freely available materials.
An author. A user with author rights can manage learning content: add and remove courses, and assign courses to learners.
An administrator. In addition to working with learning content, an administrator can add and remove users, gather them into groups, and assign roles.
In small companies, one person often wears two hats: author and administrator.
In a good LMS, administrators are free from tedious work like manually adding users to the system, as the most of the processes are automated. For example, you can invite learners by email, share a link for self-registration, or import a list from a CSV or XLSX file.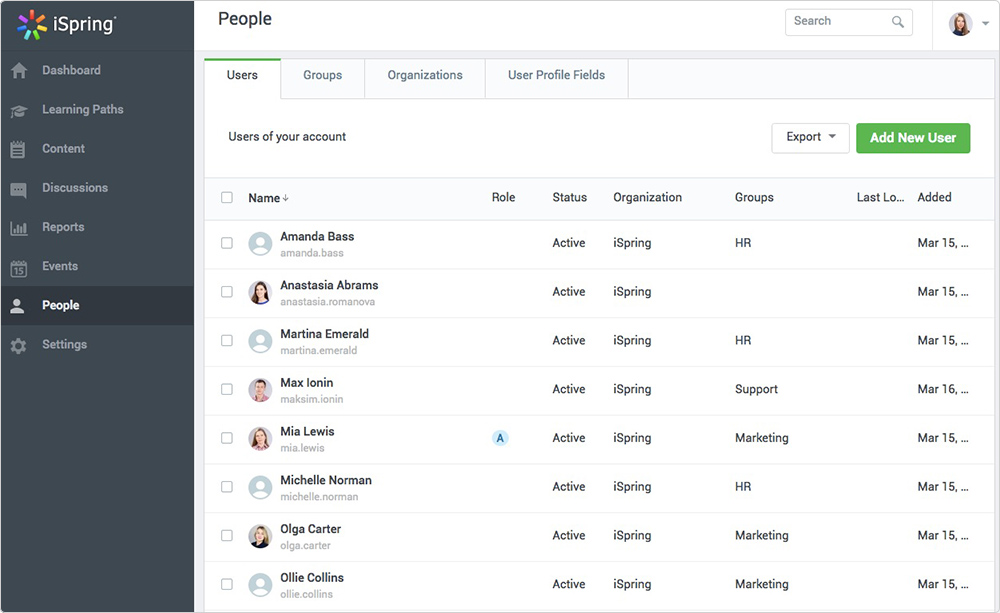 Just as in traditional learning, learners can be divided into groups. For instance, you can separate "newcomers" from "pros", or split them up according to their work areas: sales, security, or production.
Step 3: Deliver knowledge
After your content is uploaded and user roles are assigned, you're ready to present courses to your learners. It's up to you whether you want to grant access to all users or invite some of them by email, restrict some content or share a link for self-registration and free enrollment. Maybe you want to sell your courses? With an LMS, this is also possible.
And what about the learners' side? Modern LMSs like iSpring Learn allow learners to get new information right from their mobile devices. With the free mobile app, they will be able to study when and where they want: at home, in a cafe at lunchtime, or while commuting. And by the way, there's no problem if they don't have a signal, say, on a plane. It's possible to take courses offline; the performance data will be saved in the LMS when the device reconnects.
Step 4: Evaluate the results
The ability to measure the effectiveness of learning is one of the main reasons why more and more companies are getting started with LMSs. It doesn't matter how many users you have — 5 or 5,000 — with an LMS, you can track their progress in real time. Detailed statistics show how much time learners spend on studying, as well as their results.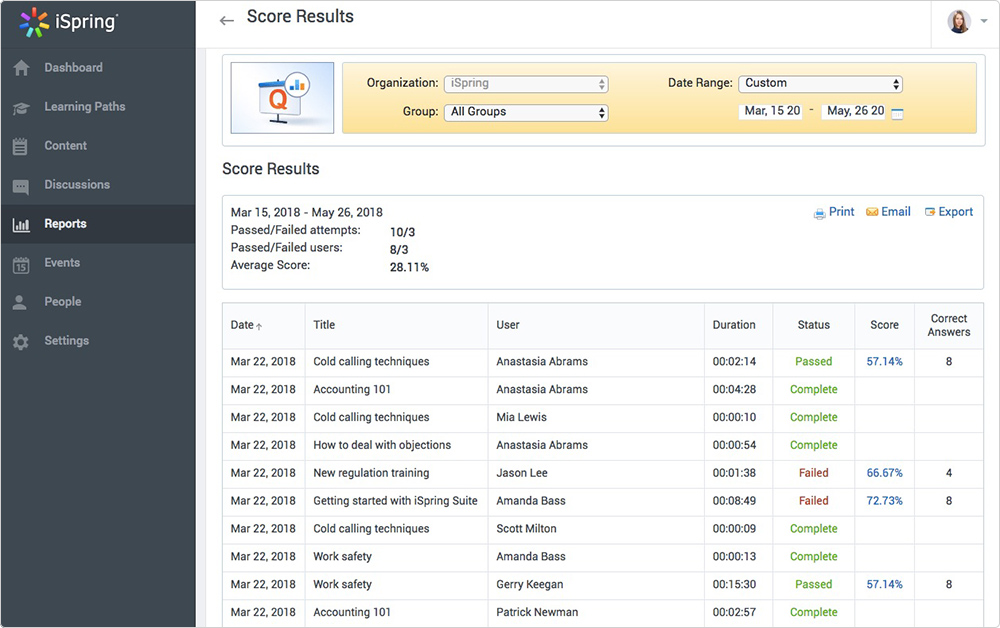 LMS Features
There's no universal agreement on the full feature set of a standard LMS, but in general, you can break down all LMS requirements into basic and advanced features:
User management – this feature allows you to add and edit users, assign them roles, and combine learners into groups and organizations.
Course management – this feature delivers learning materials. Delivery is not limited to uploading courses, but matching which piece of content goes to whom.
Progress tracking – this feature assesses learners' performance. You can measure their progress in different time intervals, or after the course is finished.
Advanced LMS features
Content creation. Some learning platforms have a built-in editor that allows you to create simple tests and courses.
ILT Classroom. If you provide blended learning, your LMS should support classroom-based learning initiatives (e.g., managing classroom schedules, monitoring attendance and performance, etc.).
Mobile learning. Most LMSs let learners train anytime, anywhere, and on any device. Some of them have native mobile apps where users can view courses even offline.
Social Learning. If you want to encourage your learners to share their knowledge, you need an LMS with social tools. Like social media, they allow you to publish articles, discuss colleagues' posts, and like and share content.
White-labeling and customization. With this LMS feature, you can create a completely unique learning platform and maintain brand consistency within your eLearning experience.
Gamification. By using gamification elements (points, awards, ratings, badges, and more), you can improve learners' engagement and motivation to study harder.
Certification. Some platforms have the option of issuing certificates to users after they complete a course or a test. This is especially helpful for companies which regularly conduct professional certifications.
Integrations. If you want to keep your company's data in sync with an LMS, you need a system that supports third-party integrations, such as your Salesforce CRM, video conferencing tools, and others.
eCommerce. An LMS with an eCommerce option allows you to sell courses and track sales without having to integrate an eCommerce back-end.
Notifications. Notifications help learners stay on top of things: their course completions, assignments, achievements, comments, upcoming events, and more.
Collaboration tools. Some LMSs provide social learning features, including knowledge sharing through repositories, social media, and discussion forums, plus learner-generated content and mentoring.
Course library. There are learning platforms with a built-in library that contains ready-made online courses covering different topics.
For more details about must-have and optional LMS features, see this article about LMS requirements.
LMS Tracking
An LMS gives you the power to monitor every aspect of learning. By collecting and analyzing data, you can understand if your audience is getting the most out of their eLearning experience, and if the quality of your content is high enough.
You can track and measure training results with LMS reports. The essential learning metrics and reports typically include:
Learner progress and completion rates
These metrics show how your individual learners are faring. You can see if they've successfully completed a course, and track how far they've come. For instance, courses with high non-completion rates may encourage you to rethink the content.
eLearning assessment results
This metric is one of the most direct indicators of user performance. It allows you to monitor skill and knowledge gaps as learners complete courses. By analyzing assessment scores, you can understand if the course is good enough, or if your learners need more information about the topic.
Course overview
Course overview reports provide a general picture of how successfully users studied a specific piece of content. You can, for example, track what percentage of learners completed a course, how much time they needed to view each activity, and what average score they got.
Satisfaction rates
An LMS typically allows you to conduct user surveys, polls, and questionnaires. By compiling data, you can evaluate learner satisfaction. How do they feel about overall course design? Are there enough activities? This metric can help you define the ins and outs of your eLearning strategy and, if necessary, take steps to improve it.
We've covered only the basic training metrics. To learn more about LMS tracking, see this ultimate guide to LMS reports.
LMS Standards
Simply speaking, a standard is a language which your eLearning courses and your LMS use to communicate with each other.
Selecting a unified standard for both authoring tools and LMSs means that information will be successfully shared between them. The trainee can comfortably view courses, and the trainer can easily track their results.
Let's take a closer look at four popular eLearning standards:
AICC
AICC (Aviation Industry Computer-Based Training Committee) is the oldest technical standard. It lets a course transfer information in HTTP format. Although this standard is no longer evolving, there are some LMSs and authoring tools that are AICC compliant.
SCORM
SCORM (Sharable Content Object Reference Model) is a standard that is recognized by almost every learning platform. It's used for packaging quiz-based e-courses and requires using a SCORM-compliant LMS. This way, learning content can interact with the system to track user progress. SCORM courses allow you to build a clear structure, use different pieces of content as standalone units, and set rules for switching between them.
Like any technology, SCORM has evolved over the years. There are currently four different versions: SCORM 1.0, 1.1, 1.2, and 2004. Before purchasing an LMS, you need to find out what version(s) of SCORM it supports.
xAPI (Experience API, Tin Can)
xAPI was introduced as a nextgen version of SCORM, but it has wider capabilities. Unlike SCORM, which is built on communications between a course and an LMS, xAPI is not limited to these relations. It can be launched from a local storage device or integrated into a standard WordPress website, and allows you to send data, for example, from talent management software or mobile apps.
Tin Can can track most learning activities such as real-time learning, offline learning, long-term learning, experiential learning, and simulations.
сmi5
сmi5 is the newest standard for LMSs. In short, it provides all the capabilities of SCORM and xAPI at the same time, and limits their drawbacks.
Unlike SCORM courses, cmi5 content can be viewed on mobile devices, even offline. The data this format enables you to track is not limited: for example, you can get detailed statistics on how users view PDFs, images, and audio and video files. Like xAPI, cmi5 makes it possible to study outside an LMS and monitor games and simulations, as well as social and mobile learning.
LMS Pricing
When looking for an LMS, you can't avoid the financial issue. To pick the best choice for your business, see what pricing models exist and how they work.
LMS pricing models

| | | | |
| --- | --- | --- | --- |
| Pay-per-active-users | Pay-per-learner | Pay-as-you-go | License Fee / Subscription |
| You pay for each person who actively uses the LMS during each billing cycle. | You're charged for a fixed number of learners, no matter if they are active or not. | You pay only for what you use — for instance, users and the courses they take. | You pay a monthly or annual license fee for the LMS. The price typically varies, depending on the included features. |
To delve deeper into which method of payment suits you best, see a full comparison table of the most common pricing models with examples of LMSs that offer them.
Check out Real Cases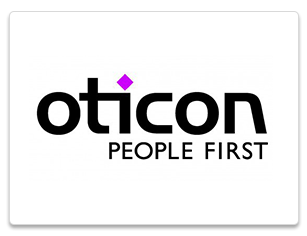 Oticon
Trains more than 250 staff members across the globe on a regular basis.
Employees have 24/7 access to more than 300 courses and can view them anytime and from any device.
New hires acclimate to the company and become productive faster.
The staff gets a new portion of training as soon as Oticon releases a new or updated product.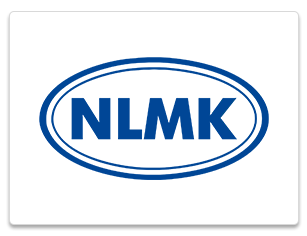 NLMK
Has a powerful system that allows them to train 16,000 steelworkers at the same time.
Saved money on business coaching services they previously had to pay for.
Train all their employees according to a single program.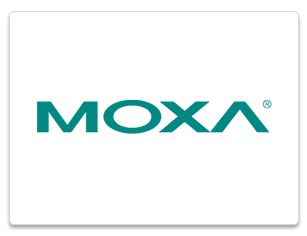 MOXA
Provides training to teams around the world at the same
time.
Successfully eliminated in-person sessions, which required travel to Europe and Asia.
Reduced the time and cost of employee training.
Has a common knowledge base for employees, 43 courses and 11 learning paths.
Can monitor employees' results.
Read the full case study →
Is There a Way to Try out an LMS?
It's easy to find out if training with an LMS is right for you and your company. Take advantage of a free trial of iSpring Learn.
Launching a virtual training center with iSpring Learn takes no more than one day. You don't need to ask technicians to configure the system — just upload your training materials, invite employees, and track their progress.​
---
APT WBT Translations | Source: What is an LMS, and What Can it Do for Your Business?
APT e-Learning Translation Services | Clients
---