Employee Onboarding Software: 2 Must-Have Tools For Increasing New Hire Retention
Employee retention is a challenge for nearly every company. BambooHR surveyed over 1,000 employed Americans and found out that 31% had left a job within the first six months. Since the cost of replacing an employee is from 90% to 200% of their annual salary, employee turnover hits the bottom line hard.
One way to retain valued employees is to provide them with a good onboarding experience.
Onboarding is the process of integrating a new employee into the new work environment. It has two main goals:
Encourage socialization and make new hires feel welcome and valued.
Teach employees the necessary skills, knowledge, and behaviors.
You can simplify and speed up the process with employee onboarding software. To successfully achieve both goals, you need an HR System and a Learning Management System (LMS).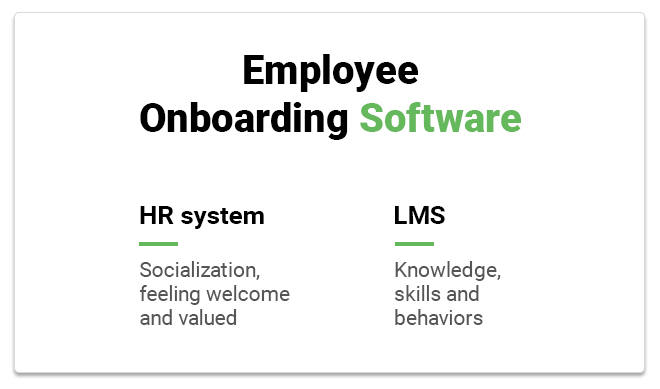 The HR System
An HR system is a means to demonstrate corporate culture and welcome new recruits. It helps to make a good first impression on the employees, foster a sense of community, and engage new hires. 
What onboarding challenges does an HR system solve?
The advantages of using this kind of onboarding software are:
New recruits don't need to hunt for knowledge. All important information such as rules, policies, an employee handbook, a glossary of company acronyms, and details about their department and job responsibilities are stored in one place.
It allows the organization to automate the manual paper-based and error-prone processes. Employees can fill out paperwork such as W-4 or I-9, benefits, and payroll forms online.
It lets you manage and track tasks that new hires need to complete.
You can greet a new hire with a welcome message, share Company's Vision & Mission, Youtube videos, links to the website, and other internal and external resources.
It helps your new hires create personal connections with team members right from the start. Incoming recruits can view information about their colleagues, including their photos and names.
To choose the right onboarding software for your company, look through the users' reviews on Software Advice.
Learning Management System (LMS)
An LMS is software for delivering company-specific training to your employees. It helps them get new knowledge and boost their skills in a fun but structured way. To learn more about the system capabilities, read the article about how an LMS works.
What onboarding challenges does an LMS solve?
There are several clear benefits of using an LMS:
You can share your company's history, mission, and corporate culture by assigning new hires a welcome course.
You can evaluate the competence of an incoming recruit through tests and quizzes.
You can save your senior employees' time by reducing the amount of face-to-face mentoring.
You can track your employees' training mastery and progress status.
You can break down onboarding program content into small chunks in the form of videos, quizzes, and interactive courses.
You can assign different training programs to employees depending on their role and seniority level.
You can give new recruits the freedom to study the material at their own pace, wherever or whenever they choose.
How to organize onboarding training with an LMS
Let's take iSpring Learn as an example to see how to provide onboarding training with a learning platform.
iSpring Learn is a cloud-based LMS with an intuitive interface that allows you to launch an eLearning initiative in less than a day. You don't need to download, install, and configure the cloud-hosted software. Learners can access all the training materials just by logging into your customized portal web portal.
Step 1. Add a new user
In iSpring Learn LMS, you can add new learners and, if necessary, move them to a specific group, for example, according to their work areas: customer support, sales, or marketing. They will have access to all the same learning materials for future training as their fellow team members.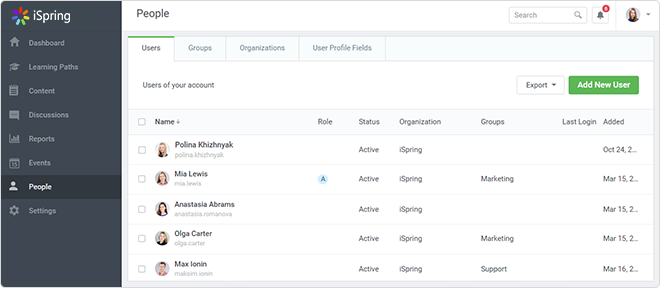 Step 2. Upload a welcome course
To start training, you need to upload learning materials to the system. iSpring Learn supports SCORM courses as well as video, audio, PDF, DOC, XLS, and PPT files.
Step 3. Assign a course
You've already uploaded a welcome course and added a new employee to the platform. Now it's time to assign them the content. In iSpring Learn LMS, you can specify who will have access to what material.
Step 4. Evaluate the results
Having visible metrics and results is critical to the success of an onboarding program. With iSpring Learn LMS, you can track your new recruits' progress. Detailed statistics allow you to evaluate the performance of new hires and ensure they are staying up to speed. It also allows you to quickly identify gaps in learning content effectiveness, close them, and improve the process.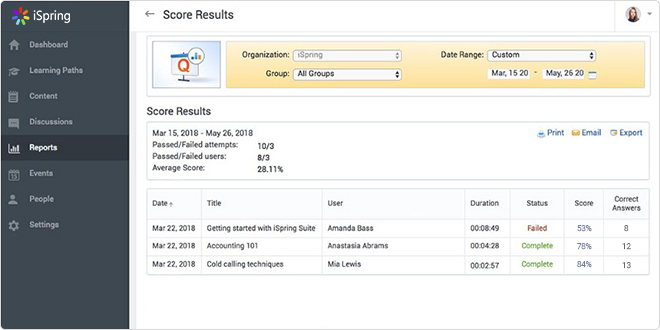 For more on how to measure the effectiveness of training in iSpring Learn, see this blog post about LMS reports.
5 iSpring Learn LMS features to boost onboarding effectiveness
Learning Paths
If you stick to extended onboarding in your company and provide a training program that covers several topics or includes a number of content items, you need to create a learning path. This is a set of courses, quizzes, and other materials that are linked together in one compound course. You can customize the order of units, evaluation criteria, and deadlines.
Mobile Learning
Using iSpring Learn LMS, your employees can learn on the go — courses adapt to the screen size and orientation of any device. Best of all, it has a free native mobile app that runs faster and provides more functionality than a responsive mobile web page. The app even allows learners to take courses offline, automatically sending their results to the system when the connection is restored.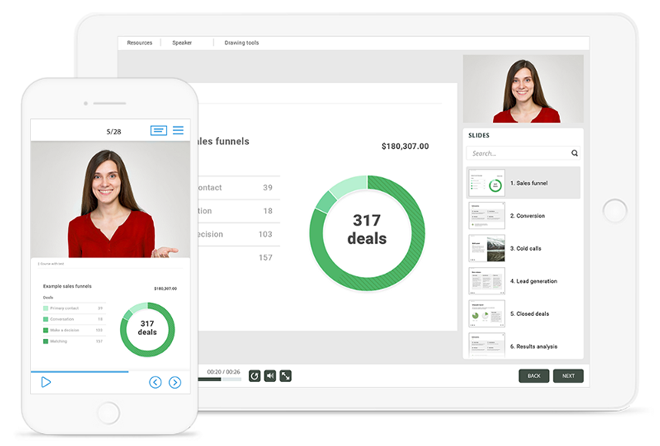 Gamification
iSpring Learn LMS allows you to gamify your eLearning experience to keep new hires engaged and motivated throughout their onboarding training. You can involve your employees in healthy competition with ratings, or award them with points and badges for finishing individual modules.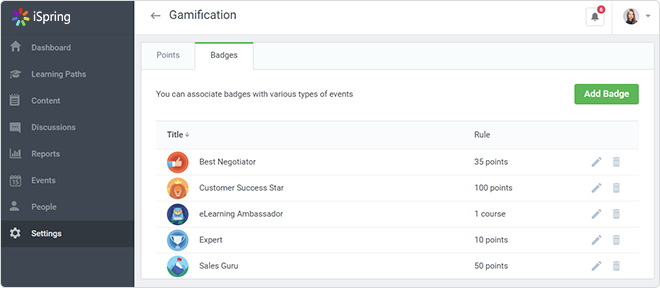 Certificates
Another great motivator for your new hires is certification. You can deliver certificates to your employees upon completing the onboarding training. The easiest way to create a certificate is to use a Microsoft Office template and then personalize it right in the LMS.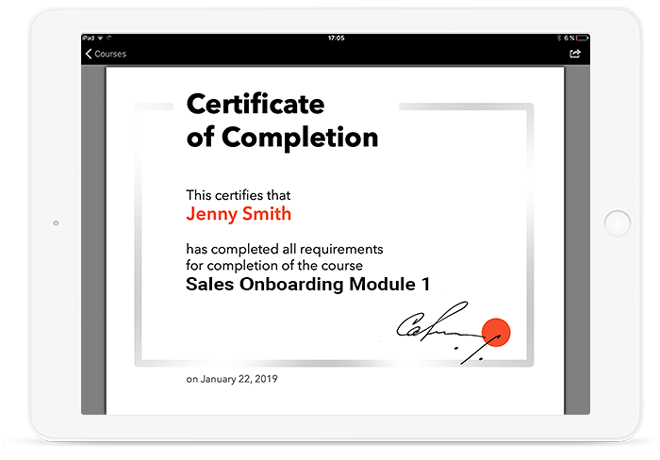 Events Calendar
It is difficult for new hires to organize all their training activities, especially if you provide in-class trainings and webinars along with online courses and quizzes. WIth the iSpring Learn calendar, users no longer have to keep separate files, spreadsheets, and to-do lists. It organizes everything in a single tab and automatically reminds learners about upcoming learning events.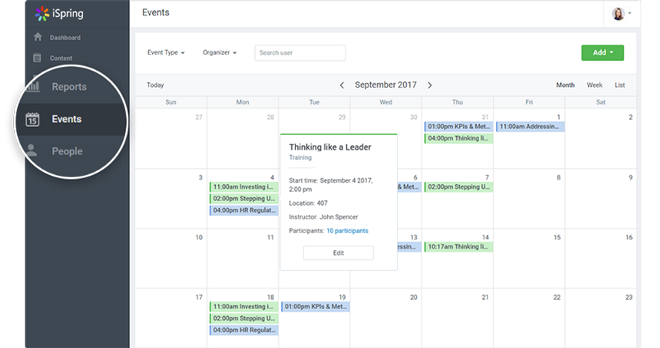 Now you're armed with all the knowledge about what employee onboarding software you need to make the process easier and faster.
Want to try it? Give iSpring Learn LMS a free 14-day test drive!
---
To get deeper into how to onboard, engage, and assess new hires, see our employee onboarding guide.  
Case studies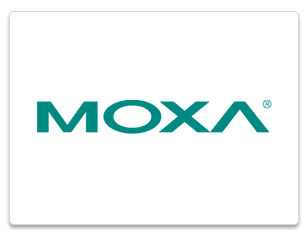 MOXA
With iSpring LMS, MOXA trains newly hired digital marketers around the world.
"Now, when new marketing people are coming to Moxa, we assign them the training on the iSpring Learn portal, and they take it on their own time and in their own time zone. It's very convenient for everyone."
Read the full case →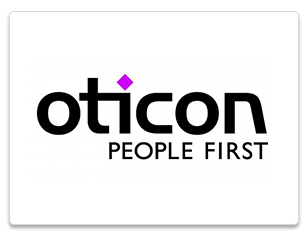 Oticon, Inc.
With iSpring LMS, Oticon, Inc., provides product knowledge training and onboarding for new employees.
"We use eLearning to help our account managers acquire knowledge about our company, our products, and our technology, and then use in-person training to teach them how to apply this knowledge to deliver the quality service our customers expect from Oticon."
Read the full case →
APT e-Learning Translation Services | Clients
---