Adobe Captivate 2017 vs. Articulate 360 vs. iSpring Suite Full Service edition
In this article, we will review the essential features of the three most popular eLearning authoring tools: Adobe Captivate 2019, Articulate 360, and iSpring Suite Full Service Edition. Each of the compared tools is well suited for a particular type of scenario. One solution will work for you when it's necessary to immediately launch a bunch of eLearning content, while others provide a complex and detailed basis for authoring.
To make your choice a little less confusing, we've compared the authoring tools in terms of their distinctive features. So, let's take the plunge!
Comparison Chart
iSpring Suite

Articulate 360

Adobe Captivate

Type of solution

Fully-stocked PowerPoint-based toolkit for a quick start making eLearning content.

It contains modules for different types of training, which allow you to focus on creating the learning content without mastering the interface or manual tweaking.

Bundle of nine tools for deploying a large-scale authoring environment.

It includes tools for creating any type of learning materials, from simple longreads to collaborative development of complex interactive courses.

Standalone eLearning authoring solution for creating complex interactive mobile-ready courses.

This tool provides you with extensive control over the mobile experience and great capabilities for creating VR projects, interactive videos, and software simulations.

Main advantages

Anyone who's created PowerPoint presentations can easily start using iSpring Suite.

Has a built-in conversation simulation editor.

The output works smoothly on any device.

Allows you to create courses in a few clicks.

Includes solutions for most eLearning tasks.

Some components of the toolkit are of use for eLearning beginners, while experts can create more complex things.

Lets you create almost all kinds of fully-responsive eLearning content.

Includes tools for immersive learning experiences with VR, interactivity, and 360° media assets.

Has a software simulation editor.

Best suited for…

– Those who are under a deadline;

– Those who develop courses on their own;

– Those who need to turn pre-existing PowerPoint presentations, Word, and PDF documents into e-courses.

– Those who develop courses as outsourcers;

– Those who have large training departments;

– Those who have a basic understanding of programming (preferably).

– Advanced developers;

– Those who need to teach how to use software;

– Those who develop courses as outsourcers;

– Those who have a basic understanding of programming (preferably).
Learning Curve
Adobe Captivate is a powerful tool that uses new future-ready technologies. It has great capabilities for delivering progressive learning experiences, but comes with a steep learning curve. Though there are a lot of video tutorials, you definitely need to take training classes before you'll be able to take advantage of all its capabilities.
Captivate is better suited for advanced eLearning instructional designers than for novice or intermediate-level specialists. It's worth purchasing only if you or your company need to create complex courses and are ready to devote a lot of time to training.
Pricing
You can buy a perpetual license for $1,299.
Adobe Activate is also available by subscription. You can subscribe for $33.99 / month (annual commitment and monthly payments required; early termination will incur a cancellation fee)
What's included:
1-month subscription to Adobe Captivate
1-month access to the content library
1-month of unlimited upgrades
Free Trial
You can download and install a free 30-day trial version of Adobe Captivate.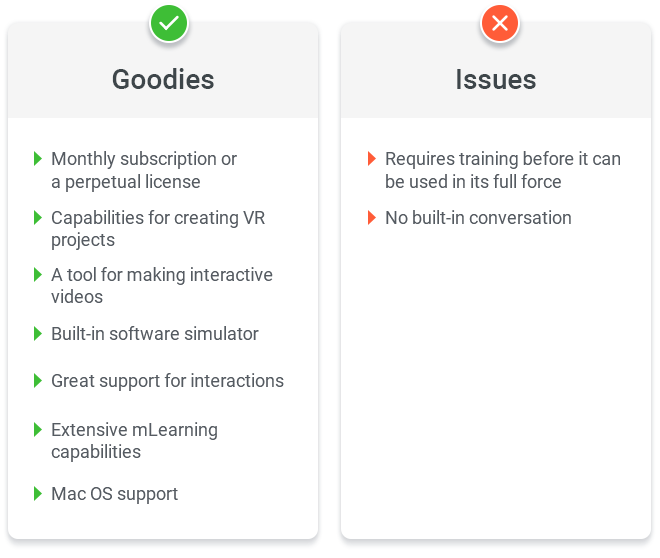 ---
APT WBT Translations | Source: Adobe Captivate 2017 vs. Articulate 360 vs. iSpring Suite Full Service edition
APT e-Learning Translation Services | Clients
---