3 eLearning Tips that Will Grow Your Business
"You're either growing or you're dying."1 It's a bold statement from a Forbes contributor, but one that's generally accepted in the business world. But while growth is critical to a thriving business, it's important to focus on sustainable growth.
Sustainable growth means expanding your business at a healthy pace. You don't grow so rapidly that your employees or cash flow can't keep up, but you also aren't remaining stagnant. According to the New York Times,2 these signs indicate that you should focus on growing your company:
Your industry is growing

Your customers are demanding better products and services

Your cash flow is steady
If your business is ready for sustainable growth, you should focus on growth strategies that are scalable and will allow you to grow your business at a pace that works for your employees and your market. eLearning is one tool you can use to make that happen, fostering sustainable expansion and ensuring the future success of your business.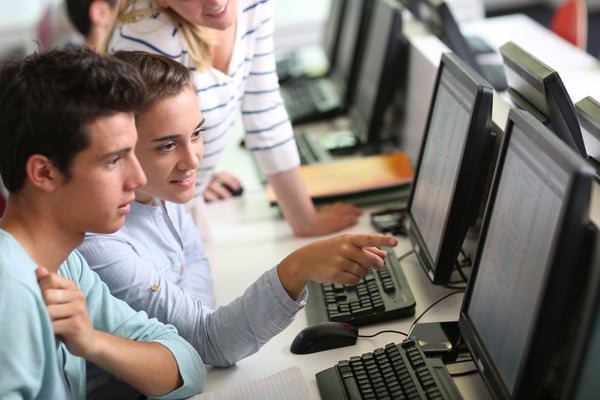 Ideas for Promoting Organizational Growth with Online Learning
Get your company on the road to sustainable growth with these scalable eLearning tips:
1. Improve the customer experience with mandatory customer service training
Since most prospective customers are referred to a company by current customers, it's unlikely that a business will grow by leaps and bounds if those customers aren't highly satisfied with the service they are receiving from employees.
By making customer service training, which improves skills such as communication and conflict resolution, mandatory for customer-facing staff across all departments, you will ensure a better customer experience. You can also include information on how customer service representatives can politely request reviews and referrals (or invite customers to join your referral program). This will help increase the number of people your current customer base refers to your business on a regular basis. Over the course of a year, this can add up to serious growth.
Keep in mind that your employees will appreciate and more readily participate in online customer service courses that can be accessed on any mobile device. Mobile learning makes it easier for staff to fit customer service training into their schedule, even if they aren't customer service reps.
2. Create a new revenue stream by selling eLearning
Companies that want to get the best ROI for their training investment often use an extended enterprise LMS to sell training content to those outside their organization. This is not only an effective way to increase income, but also to trigger business growth as it expands the reach of a company's brand and influence, sometimes globally. But according to Training Magazine,
"…often, organizations fail to put an appropriate price tag on their eLearning. This devalues the product, restricts revenue, and promotes low participation rates…. So be sure to price your online trainings in a way that is representative of the value the education brings to the learner, especially one outside your organization."3
People value eLearning content that is priced based on value, not cheap content. By appropriately pricing, marketing, and selling online training courses, companies can grow their customer base and reputation.
3. Support innovation with interactive online training initiatives
According to a series of surveys conducted by Maddock Douglas, "while 80% of executives know that their companies' success depends on introducing new products and services, more than half agreed that their companies dedicate insufficient resources to support innovation."4
If your growth plan includes adding new products and services, you need to devote sufficient resources to innovation, creating a company-wide culture that supports your most creative staff members. eLearning can help you create that culture. New ideas often flow more readily in an innovative company culture where employees are continuously in a learning mindset and experiencing new things.
To promote an innovative, learning environment businesses should create interactive online training, which facilitates innovation and continuous learning by providing opportunities for employees to grow and gain new experiences.5
A learning management system is a good investment for businesses wanting to promote innovation. eLearning Industry said that an LMS is the vessel the most innovative businesses use for their training initiatives.6 An eLearning system allows companies to create, distribute, track, and report on interactive, compelling online training that can be easily updated to spark innovation. The results of an innovative learning culture include better products and services and a fast-growing business.
What's Hindering Your Business Growth?
Is your organization's growth stunted? If so, it could be due to one of these issues:
Poor customer service
A narrow organizational influence
Products and services that remain static and aren't regularly improved
eLearning delivered with a full-featured, robust learning management system that meets your company's needs will help you resolve each of these problems. Promote growth by choosing the best eLearning software for your company.
---
References:
1. Forbes. In business, you're either growing or you're dying. https://www.forbes.com/sites/forbeslacouncil/2018/03/23/in-business-youre-either-growing-or-youre-dying/#5aaffa54400d.
2. The New York Times. How to grow your business. https://www.nytimes.com/guides/business/how-to-grow-your-business.
3. Training Mag. How to leverage your eLearning investment to grow your business. https://trainingmag.com/how-leverage-your-elearning-investment-grow-your-business/.
4. Harvard Business Review. The 6 ways to grow a company. https://hbr.org/2018/06/the-6-ways-to-grow-a-company.
5. Talent LMS. 6 steps to innovation through eLearning. https://www.talentlms.com/blog/6-steps-innovation-through-elearning/.
6. eLearning Industry. 6 must-have learning management system features for innovative brands. https://elearningindustry.com/learning-management-system-features-for-innovative-brands-6-must-have.
---
APT Self-Paced Learning Translations | Source: 3 eLearning Tips that Will Grow Your Business
APT e-Learning Translation Services | Clients
---